Wood
Wood is an amazing material that has fascinated me since I was young. I love trees and their wood. This material has been associated with man since time immemorial, and its popularity is not declining even in today's over-technological and plastic times. Wood has many properties that other materials do not have. It is colorful, smells, has its own unique drawing and shape. For my work I like to use the natural drawing of annual rings or natural cracks.
Carving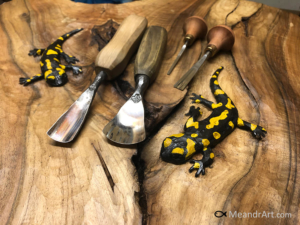 Carving is my most favorite woodworking method. I am one of those people who prefer carving with traditional hand tools like an axe, a chisel, a mallet and of course a knife. I try to process all my work manually only with these tools. Of course, this is an emotional opinion, but products made by hand and by human force have a "higher" value for me.
Joinery
I prefer to do joinery mainly with hand tools such as a classic planer, a swallow planer and hand saws. A certain challenge is to connect wood parts with various dovetail and butterfly joints. A well-sharpened scraper seems to be the best tool for creating a smooth surface.
Surface finish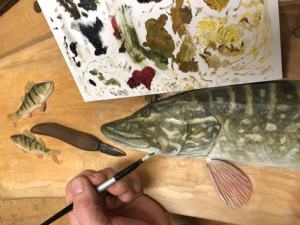 I paint on some woodcarving motives. I prefer to apply the painting only to the main motive and I let surrounding texture or just the color of the wood stand out around this. If I feel the need or the wood is "dull", I tint the surroundings or the whole carving using stains. I like to finish wood carvings with beeswax and various oils. When  oils are used, the wood surface remains natural and pleasant to the touch.